A Full Range of Modern Vision Correction Services
David Drucker, M.D. joined our practice May 1, 2019. Dr. Drucker has been in practice as an Eye Physician and Surgeon in Denver since 1977. If you are a current or former patient of Dr. Drucker's, he is available on a limited basis for general ophthalmology exams and treatments. Appointments are offered on Tuesday afternoons.
David's Training and Professional Career
David graduated from Muhlenberg College in Allentown, Pennsylvania with a Bachelor of Science in 1968. He received his Doctor of Medicine (M.D.) Degree from State University of New York Downstate Medical School in 1972, with Honors in Surgery, Pediatric Hematology and Gastroenterology.
In 1977 David completed his training in Ophthalmology and received his license for the State of Colorado.
Among his honors, David was named one of the LaserVision Top 100 Surgeons for achieving excellence in refractive surgery. Rose Medical Center awarded David a Certificate of Appreciation as a volunteer providing health care for the Soviet Emigres who left their homeland in pursuit of the blessings of freedom enjoyed by all Americans.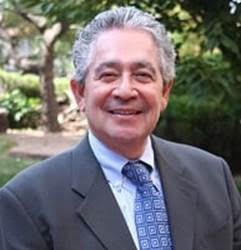 1965-1968 Muhlenberg College – Allentown, Pennsylvania – Bachelor of Science
1969-1972 State University of New York Downstate Medical School – New York, New York – Doctor of Medicine (M.D.)
1972-1973 Internship in Internal Medicine – Long Island Jewish Hospital, New York
1973-1976 Brooklyn Eye & Ear Hospital State University of New York Downstate Medical Center, New York, New York – Residency training in Ophthalmology
Private Practice Denver 1977 – Present
Professional Affiliations
American Academy of Ophthalmology
American Society of Cataract & Refractive Surgery
Colorado Society of Eye Physicians and Surgery
American Medical Association
1965-1968 Muhlenberg College – Allentown, Pennsylvania – Bachelor of Science
1969-1972 State University of New York Downstate Medical School – New York, New York – Doctor of Medicine (M.D.)
1972-1973 Internship in Internal Medicine – Long Island Jewish Hospital, New York
1973-1976 Brooklyn Eye & Ear Hospital State University of New York Downstate Medical Center, New York, New York – Residency training in Ophthalmology
Private Practice Denver 1977 – Present
Professional Affiliations
American Academy of Ophthalmology
American Society of Cataract & Refractive Surgery
Colorado Society of Eye Physicians and Surgery
American Medical Association
The Fine Art of Vision Care